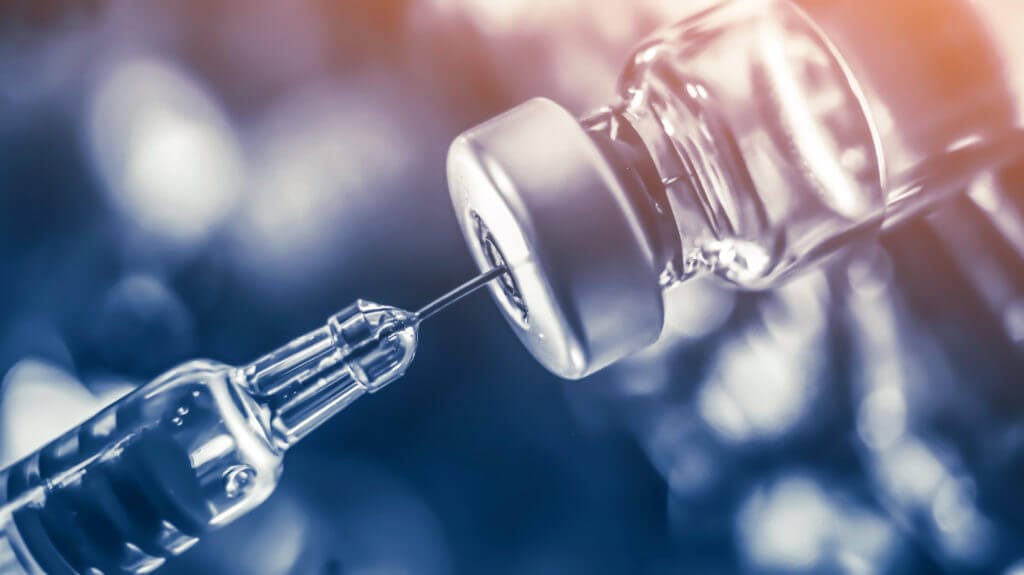 Reflexive Sympathetic Disorder Triggered by a Vaccine
Complex Regional Pain Syndrome (CRPS) / Reflex Sympathetic Dystrophy (RSD)
Complex Regional Pain Syndrome (CRPS) is a malfunction of the nervous system that causes long-lasting, severe pain, and other problems – symptoms typically occur in the arms, legs, feet, or hands. CRPS usually affects a part of a body that has previously suffered some sort of injury or traumatic event. Triggers of CRPS can be as minor as a vaccine, or as serious as a heart attack.
Although CRPS is now the official name of this syndrome, it has gone by many other names in the past, which you may have heard at some point. These names include Reflex Sympathetic Dystrophy or Reflex Sympathetic Disorder (RSD), Shoulder-Hand Syndrome, Causalgia, and Sudeck's Atrophy.
These names all describe the same condition, however, most doctors today use the name "Complex Regional Pain Syndrome," or CRPS. Patients who develop CRPS after receiving a vaccine may also be entitled to compensation from the federal government.
CRPS Type 1: No detectable nerve damage
About 90 percent of people experience CRPS Type 1. CRPS Type 1 occurs after an illness or injury that doesn't directly damage any nerves in your affected limb.
CRPS Type 2: Direct nerve damage
CRPS Type 2 happens when it is direct, confirmed damage to a nerve in the affected limb.
---
---
A Look at the Research Linking CRPS and Vaccines
There are reports of patients developing CRPS after getting an immunization, especially HPV and hepatitis B vaccines. However, the exact cause of CRPS remains somewhat of a mystery.
Below is a list of studies linking different vaccines to CRPS. The studies referenced were all published by the National Center for Biotechnology Information (NCBI), which forms part of the National Institutes of Health (NIH).
One study found four cases of CRPS "after hepatitis B vaccination in four grade-6 children." The authors concluded that "the reaction may result from injection trauma" (Jastaniah et al.).
One study found that a large portion of patients experienced symptoms linked to CRPS after receiving HPV vaccines. The study was based on large clusters of data from VigiBase, which is "the World Health Organization (WHO) international database of suspected adverse drug reactions" (Chandler et al).
Another study examined the Vaccine Adverse Event Reporting System (VAERS) database for reports of CRPS. VAERS is a US program for vaccine safety, co-managed by the CDC and the FDA. This study found 22 cases of CRPS, and, "in 21 reports, the patient had received quadrivalent HPV vaccine; one report was for bivalent HPV vaccine" (Weinbaum et al).
A Japanese study examined 40 girls who complained of abnormal symptoms after receiving the HPV vaccine. 18 girls met the criteria to be diagnosed with CRPS. Specifically, four of them met the official Japanese criteria for CRPS diagnosis, and 14 of them met other countries' criteria for CRPS diagnosis (Kinoshita et al).
A case report published in the Official Journal of the Japan Pediatrics Society describes the case of a 17-year-old girl who developed CRPS after receiving an influenza A (H1N1) vaccine (Kwun et al).
Diagnosed with CRPS After a Vaccine?
One of our highly experienced vaccine attorneys can review your case for free
What are the Symptoms of Complex Regional Pain Syndrome (CRPS)?
Typically, the first symptom to show up is prolonged pain in a body part. Although CRPS usually affects a limb or extremity – like an arm, leg, foot, or hand – it can also affect a hip or shoulder. This pain may become more severe and frequent over time. In more severe cases, the pain can also spread across limbs.
In addition to prolonged, worsening pain, if you have CRPS, you may also experience these symptoms in your affected body part:
Burning, throbbing, or "pins and needles" sensation
Squeezing sensation
Increased sensitivity: Extreme pain from regular/light contact with skin
Abnormal changes in skin temperature: affected limb may be unusually hot or cold
Changes in skin color: skin may become pale, bluish, reddish, purplish, spotted, or blotchy
Changes in skin texture: skin may become unusually tender, thin, or shiny
Muscle spasms
Increased sensitivity to hot or cold temperatures
Swelling
Decreased mobility or stiffness
Abnormal sweating
If you experience one or more of these symptoms in a part of your body after receiving a vaccine, you may have CRPS. You should talk to your doctor about your symptoms and medical history. Additionally, you should contact a lawyer with experience representing victims in the Federal Vaccine Court.
---
How is Complex Regional Pain Syndrome Diagnosed?
There is no one test that can diagnose CRPS. However, a combination of procedures can help your physician give you an accurate diagnosis. These procedures usually include some combination of the following:
A bone scan
X-rays
MRI scans
A sympathetic nervous systems test (which looks for disturbances in your nervous system)
Examination of skin temperature, blood flow, and sweat between affected and unaffected limbs
Additionally, if you suspect that you have CRPS from an injection, you should also make sure to mention your vaccination history to your doctor in order to ensure an accurate diagnosis.
How is Complex Regional Pain Syndrome Treated?
The symptoms of Complex Regional Pain Syndrome vary from person to person. Because of this, there is a wide variety of treatments, medications, and therapies used in treating CRPS. Fortunately, victims of CRPS can make full recoveries, but early diagnosis is the key.
Some of the most common treatment methods for CRPS include:
Pain Relievers
Antidepressants
Anticonvulsants
Corticosteroids
Bone loss-blocking medications
Nerve-blocking medications
Intravenous (injected) ketamine
Hot and cold applications
Biofeedback
Physical therapy
Spinal cord stimulation
Nerve stimulation
What to do if you Have (or Think you Have) CRPS Triggered by a Vaccine:
Victims of CRPS experience chronic pain and their life can be very challenging. It's important to find qualified medical advice and help as soon as possible. So, if you feel that you got CRPS from an injection, contact a lawyer experienced in representing victims in the Federal Vaccine Court. Filing a vaccine injury claim is very complicated.
There are no legal costs for an injured patient represented by Mctlaw.
When your case is complete, our attorneys ask the Court for reimbursement of the fees and costs incurred representing you. This reimbursement is separate from any money that you are awarded by the Federal Vaccine Court. You never have to share ANY portion of your money for damages with our law firm.
If you would like more information, please fill out the online vaccine form on this page or call our office's toll-free at (888) 952-5242 for a free case evaluation.
Content Reviewed by Jessica Olins – Vaccine Injury Lawyer
Jessica A. Olins' practice at mctlaw, focuses on representing clients in the National Vaccine Injury Compensation Program. Ms. Olins graduated with a Bachelor's degree from Redlands University and graduated from American University Washington College of Law. While at Redlands University, Ms. Olins excelled in leading and training her colleagues through new developments in spatial mapping, involving geographic information system software and geodatabase management applications. Her law practice also involves engaging in subpoena enforcement in federal district courts nationwide. Ms. Olins is a member of the Vaccine Injury Practitioners Bar Committee, assisting in the preparation and organization of the VIP Bar Conferences. Ms. Olins is a member of the American Association for Justice and its New Lawyers Division. Additionally, Ms. Olins is a member of the Young Lawyers Division of the United States Court of Federal Claims.
This page was last updated:
Find out right now if you have a vaccine injury claim
Your Case Review is Free. Don't Wait to Get Help Because There is a Deadline.
COVID-19 Vaccines are NOT Eligible
My experience with mctlaw for my hip claim was remarkable, I found the communication to be outstanding. I also felt they did an excellent job setting expectations and then delivering on those stated expectations. From net amount, timing of the settlement, how much each related party would receive etc. they were outstanding. I would highly recommend them. They are very professional and set the bar in vaccine injury practice.
L.S
Client
Five stars for mctlaw! Paralegal Leslie Williams did an outstanding job communicating with us and keeping us informed. Thanks for all the help.
M.H.
Client
I am excited to be receiving my final payment so I can put all this behind me. I am really grateful to everyone who played a part in getting me this well deserved settlement as my life has been negatively impacted over the years.
M.B.
Client
We cannot thank you enough for the services your firm has provided for Marie and I in our time of need. I could not have chosen a finer firm near or far to represent us.
John and Marie (Last Name Withheld for Privacy)
My first response is "Wow!" It has only been 11 months since I first heard of "SIRVA" and an HHS program that awarded compensation to its victims and only 7 months since MC&T accepted my case. I feel that your efforts on my part made all the difference.
A. Stoneburner
Thanks to you I am living comfortably in my own home with assistance. After my devastating GBS diagnosis from the flu vaccine six years ago, I didn't know what to do. Thank goodness I found you and your law firm. Thank you so much!
Name Withheld for Privacy
Alison is a phenomenal attorney… When she put together the demand letter she was able to explain what I had been through and how I had felt… I want to thank your firm but personally thank all that had a hand in resolving my case.
Name Withheld for Privacy
The past 10 months have been a whirlwind to say the least but we are truly thankful, grateful and appreciative of …all you have done for our family. This is truly life changing for us. The weight that this lifts off of our shoulders and the peace of mind it will give us….its priceless. So again, thank you.
Name Withheld for Privacy of a Minor Child
Thank you so much. It was so nice to deal with someone who treated us with respect and had a true interest in our future. This would not have happened without your hard work. Please tell anyone who helped with this that we truly appreciate it.
Martin (Last Name Withheld)
I am so grateful for all of your time and tireless work that you have put into resolving my case. Most sincere thanks.
M.R.
I just wanted to thank you for your help over the past 3 years…Thank you for negotiating with the DOJ in order to get as much as we could under the circumstance…It has been a pleasure having you and your wonderful staff here to assist me in this long and tedious effort.
Name Withheld for Privacy
Thank you for all of your efforts all along to help resolve lifelong issues I will always have due to this defective implant. You have held my hand through a lot and each and everyone of you at MCT are appreciated for all of your efforts.
Name Withheld for Privacy
Mr. Maglio, I want you to know the appreciation I have for Diana Stadelnikas and her team for the effort they have put into my wife's claim! The settlement negotiation they achieved (in a very frustrating situation) is outstanding! While there's a way to go yet, I want to assure you will they have my full confidence and gratitude to the finish! I know you must be proud of your people!
W.C.
I thank you so much for your diligent and hard work on my behalf. You are a thoroughly professional and pleasant person and I am grateful for having you on my case.
Susan M.
Client