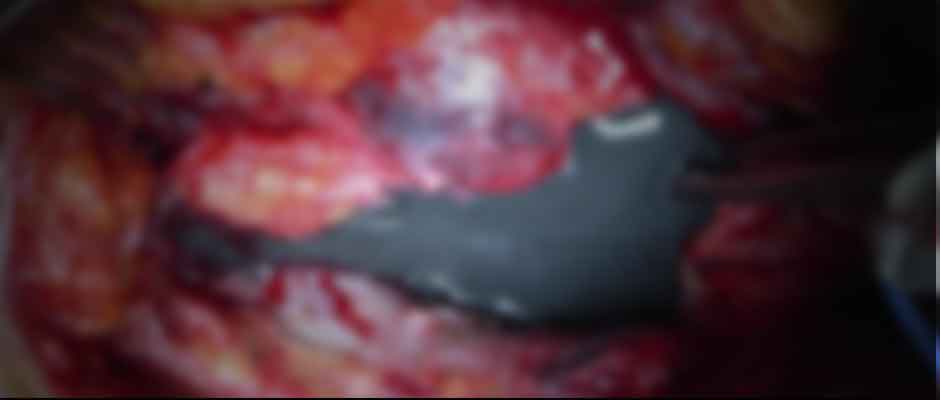 Cobalt Chromium Poisoning from Metal on Metal Hip Replacements
Cobalt-Chromium Metal Poisoning from Hip Replacements
Cobalt-Chromium poisoning is a risk for anyone with a metal-on-metal (MoM) hip replacement. It happens when there's friction between metal surfaces. The friction releases tiny metal particles into your hip joint. The larger particles stay in your hip joint. The smaller particles can get transported in your blood to other parts of your body.

Your doctor will probably order blood tests to check the levels of metal in your bloodstream. Some tests check the level of metal in your urine instead.
What is Considered a High Level of Chromium and Cobalt?
Slightly elevated metal levels are normal for patients with metal on metal hip replacements. Really high metal levels are alarming. DePuy Orthopedics, Inc. released a report saying that concentrations higher than 7 parts per billion (ppb) of cobalt and/or chromium are of concern. The Mayo Clinic has set a much lower reference value for blood testing, listed below.
High Chromium Levels: Greater than 1ng/mL
According to the Mayo Clinic Medical Laboratories, "blood serum concentrations greater than 1ng/mL in a patient with Cr-based implant suggest significant prosthesis wear." Their research also indicates that these levels increase the longer you have the hip implant.
High Cobalt Levels: Greater than 10ng/mL
Additionally, the Mayo Clinic Medical Laboratories reports that "cobalt is not highly toxic, but large doses will produce adverse clinical manifestations. Toxic concentrations are greater than or equal to 5.0 ng/mL. Serum concentrations greater than 10ng/mL in a patient with cobalt-based implant suggest significant prosthesis wear."
What Should I Do if I Have Elevated Metal Levels?
See your orthopedic surgeon and primary care physician immediately. This is a situation that requires long-term medical monitoring.
If your concentration of cobalt and chromium remains above a safe level, your doctor will probably recommend a MARS MRI and/or ultrasound and more testing.
If not, you may want to request these advanced tests from your doctor, even if you don't have any symptoms.
What if I Don't Have any Symptoms?
Often there are no immediate physical signs of a problem, but the hidden damage that these metals can do to your body is traumatic. The earlier you get medical care, the better.
Some adverse reactions can be cured by a revision surgery or other medical interventions, but only if done early enough.
This is why it's important to be aware of the type of metal on metal hip replacement you have, and to ask your doctor if you should be getting regular blood tests for metal ion levels.
What is Revision Surgery?
Revision surgery can be needed to fix the injuries caused by defective hip replacements. It involves removing the damaged implant and replacing it with a new one. Many times, a surgeon must repair extensive tissue, muscle and bone damage from the defective device before the new hip replacement can be put in place. Because of this, revision surgery is a complex operation and requires a specialized orthopedic surgeon to perform it.
Metallosis Reaction During Hip Revision Surgery
Sometimes the best way to understand severe metal reactions is to see for yourself. The image shows a still shot of metallic-colored fluid gushing from the surgical area near the hip implant.
In this surgery, the patient is a 70-year-old man who reported swelling in his hip. During the revision surgery, doctors punctured the fluid-filled tissue surrounding the muscles of the hip to find a surprising amount of discolored fluid, along with corrosion at the head-neck junction of the hip implant. The pathology report confirmed it was an adverse local tissue reaction (ALTR) from the metal-on-metal hip implant.
Other Adverse Reactions to Metal Ions
Adverse Reaction to Metal Debris (ARMD)
ARMD describes general complications to metal debris in the body from corrosion in a metal on metal (MoM) hip implant.
The researcher who coined the term "ARMD" used it to describe all the different types of soft tissue damage found in patients with MoM hips, including metallosis, pseudotumors, and ALVAL. Click the image to learn more about ARMD.
---
Aseptic Lymphocyte-Dominant Vasculitis-Associated Lesions (ALVAL)
ALVAL happens when the metal particles from the defective metal implant interact with the body's immune cells, causing the body's defense system to act like it's being attacked.
Symptoms of ALVAL include pain in the hip and groin area, clicking/popping/squeaking of the hip implant, lumps or inflammation around the hip implant or groin, and more.
---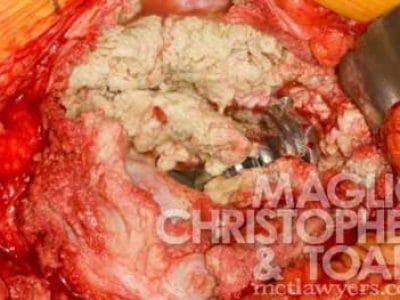 Metallosis
Metallosis is a type of metal poisoning. It involves a build-up of metal debris in the body's soft tissue. This happens when parts of a metal on metal hip replacement rub together, releasing tiny cobalt and chromium particles into your bloodstream and the tissue surrounding your hip.
These particles rot healthy red tissue and muscle around the implant and turn it into a dry, gray, and dead mass of gunk. This means pain and loss of mobility.
---
Osteolysis
Bone loss is the destruction of bone around an implant. Bone loss is also called "osteolysis" or "aseptic osteolysis." It is a common yet serious side-effect of Metal on Metal (MoM) hip replacements.
A leading cause of MoM hip failure is bone loss. In fact, according to the Rheumatology Network, "implant loosening resulting from aseptic osteolysis accounts for more than 75% of [implant] failures" (Rheumatology Network).
---
Adverse Local Tissue Reaction (ALTR)
ALTR stands for "Adverse Local Tissue Reaction," and it's a type of inflammatory response, similar to an allergy, that can happen in the hip joints of people with Metal-on-Metal (MoM) hip implants.
Some symptoms of ALTR are similar to an infection, like swelling and collections of fluid, but ALTR is not an infection at all. Rather, ALTR is an immune reaction to the metal debris floating around in the surrounding tissue.
Metal on Metal Hip Replacement Cases Across the United States
Click on each state to view the number of cases.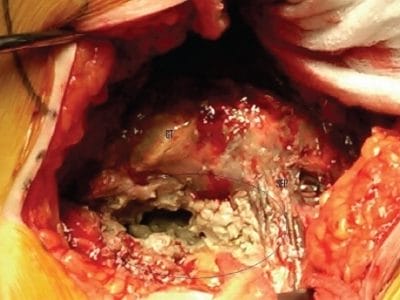 Why is Blood Testing Critical?
Leading orthopedic surgeons recommend cobalt and chromium blood testing every three months for as long as a patient has a metal on metal hip in their bodies.
Cobalt and chromium blood testing is critical, even if you don't have any symptoms or physical issues with your hip. You can still have metal poisoning with no symptoms.
Find out now if you have a defective metal hip injury claim
Your case review is free. Find out how to preserve evidence in your case.
Mctlaw Attorneys are Highly Experienced in Metal Hip Lawsuits
In 2008 mctlaw led the first lawsuit in the United States against a manufacturer of the current generation of defective metal-on-metal hip replacements.
Mctlaw has reviewed the millions of discovery documents involved in this litigation.
Other law firms contact our attorneys for advice on these types of cases.
Our attorneys have personally questioned under oath dozens of orthopedic hip manufacturer's employees, including surgeons, designers, marketing executives, and corporate CEOs.
Our attorneys are aggressively and actively litigating defective metal on metal hip cases through the U.S. state and federal court systems.
We are not waiting for a settlement that may never come because our clients need help now.
Find out right now if you have a claim
Your case review is free. Don't wait to get help because it could hurt your case.
My experience with mctlaw for my hip claim was remarkable, I found the communication to be outstanding. I also felt they did an excellent job setting expectations and then delivering on those stated expectations. From net amount, timing of the settlement, how much each related party would receive etc. they were outstanding. I would highly recommend them. They are very professional and set the bar in vaccine injury practice.
L.S
Client
Five stars for mctlaw! Paralegal Leslie Williams did an outstanding job communicating with us and keeping us informed. Thanks for all the help.
M.H.
Client
I am excited to be receiving my final payment so I can put all this behind me. I am really grateful to everyone who played a part in getting me this well deserved settlement as my life has been negatively impacted over the years.
M.B.
Client
We cannot thank you enough for the services your firm has provided for Marie and I in our time of need. I could not have chosen a finer firm near or far to represent us.
John and Marie (Last Name Withheld for Privacy)
My first response is "Wow!" It has only been 11 months since I first heard of "SIRVA" and an HHS program that awarded compensation to its victims and only 7 months since MC&T accepted my case. I feel that your efforts on my part made all the difference.
A. Stoneburner
Thanks to you I am living comfortably in my own home with assistance. After my devastating GBS diagnosis from the flu vaccine six years ago, I didn't know what to do. Thank goodness I found you and your law firm. Thank you so much!
Name Withheld for Privacy
Alison is a phenomenal attorney… When she put together the demand letter she was able to explain what I had been through and how I had felt… I want to thank your firm but personally thank all that had a hand in resolving my case.
Name Withheld for Privacy
The past 10 months have been a whirlwind to say the least but we are truly thankful, grateful and appreciative of …all you have done for our family. This is truly life changing for us. The weight that this lifts off of our shoulders and the peace of mind it will give us….its priceless. So again, thank you.
Name Withheld for Privacy of a Minor Child
Thank you so much. It was so nice to deal with someone who treated us with respect and had a true interest in our future. This would not have happened without your hard work. Please tell anyone who helped with this that we truly appreciate it.
Martin (Last Name Withheld)
I am so grateful for all of your time and tireless work that you have put into resolving my case. Most sincere thanks.
M.R.
I just wanted to thank you for your help over the past 3 years…Thank you for negotiating with the DOJ in order to get as much as we could under the circumstance…It has been a pleasure having you and your wonderful staff here to assist me in this long and tedious effort.
Name Withheld for Privacy
Thank you for all of your efforts all along to help resolve lifelong issues I will always have due to this defective implant. You have held my hand through a lot and each and everyone of you at MCT are appreciated for all of your efforts.
Name Withheld for Privacy
Mr. Maglio, I want you to know the appreciation I have for Diana Stadelnikas and her team for the effort they have put into my wife's claim! The settlement negotiation they achieved (in a very frustrating situation) is outstanding! While there's a way to go yet, I want to assure you will they have my full confidence and gratitude to the finish! I know you must be proud of your people!
W.C.
I thank you so much for your diligent and hard work on my behalf. You are a thoroughly professional and pleasant person and I am grateful for having you on my case.
Susan M.
Client