Stryker LFIT V40 Femoral Head Recall
An urgent warning to all patients with a Stryker LFIT Anatomic CoCr V40 Femoral Head: Contact your orthopedic surgeon immediately.
Orthopedic manufacturer Stryker recalled the LFIT V40 Femoral Heads because of patients experiencing unusually high injury and failure risks.  Lawsuits claim the design of these implants are defective and have caused serious injuries, such as tissue death, metal poisoning, and fracture or snapping of the implant.  All of these injuries typically mean a patient will undergo a brutal revision surgery to remove and replace the failed implant.
The LFIT head is most commonly used with the following hip stems: Accolade TMZF, Accolade 2, Meridian, Citation.  However, the LFIT femoral head can be implanted with other types of stems besides the ones listed here, including the Rejuvenate and AGB II
How We Can Help – Metal on Metal Hip Lawsuit
Maglio Christopher & Toale, P.A. is a national leader in metal hip litigation.
Our attorneys filed the FIRST MoM hip replacement lawsuit in the United States in 2008.
We've recovered over $50 million for our clients who have defective knee and hip replacements.
Our attorneys are actively filing claims for injured patients with these defective hip implants.
We offer free case reviews to find out if you have a lawsuit or settlement.
What is Wrong with the LFIT V40 Femoral Head?
Stryker says the problem is "possible taper lock interface inconsistency."  In simpler terms, it's severe corrosion that can cause a host of other physical and medical problems in people who have this device.
CORROSION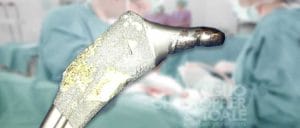 The Stryker LFIT femoral head is known to corrode between the femoral head (ball-shaped part) and the stem (longer part). This
metal corrosion
is similar to rusting and can weaken the connection between the head and the stem. Lawsuits allege that this type of corrosion happens because of a defective design of the hip implant.
SPONTANEOUS DISSOCIATION
Corrosion can cause the stem of the hip implant to snap off from the ball, or head.  This happens when the metal on the stem wears away and the notch where the ball attaches and can't hold on any longer during movement.  This is called "spontaneous dissociation" and it is a catastrophic failure of the implant.
METAL POISONING
This corrosion or wearing down can release metal ions into your bloodstream, causing what's called "
metallosis
."  It's a type of metal poisoning from exposure to the microscopic cobalt and chromium debris.  Metallosis from a defective LFIT femoral head can trigger a serious immune system response like skin rashes, liver and kidney problems, tissue death, bleeding, cancer,
pseudotumors
, and even cognitive impairment.
Stryker Sends out Recall Letters
On August 29, 2016, Stryker sent recall letters to surgeons warning that LFIT hip implant patients could be at serious risk. Below is Stryker's explanation for the LFIT recall:
"Stryker has received higher than expected complaints of taper lock failure for specific lots of the following certain sizes of LFIT™ Anatomic CoCr V40TM Femoral Heads manufactured prior to 2011."
Furthermore, Stryker goes on to apologize to surgeons, saying they "regret any inconvenience this action may cause you."
Australia's FDA Issues Hazard Alert
On September 27, 2016, Australia's version of the FDA issued a Hazard Alert for the LFIT Anatomic CoCr V40 femoral head, citing a high incidence of taper lock failures. Stryker warns that patients could experience the following symptoms:
Pain
Swelling
Loss of Mobility
Tissue reaction or tissue death around the hip area
Hip dislocation
Joint instability
Broken bones around the implanted joint
One leg shorter or longer than the other
Review Our Current Stryker LFIT V40 – Accolade Lawsuits
We believe the best way for patients to understand this litigation is to read the actual legal documents created and filed by Maglio Christopher & Toale, P.A. Below you can read examples of complaints related to our Stryker LFIT cases:
CASE NUMBER 15-2-07576-0 – Plaintiff vs. Howmedica Osteonics Corp., A New Jersey Corporation D/B/A Stryker Orthopaedics, Defendant
Our client underwent a revision surgery to replace the Stryker LFIT Anatomic V40 Femoral Head and the Accolade TMZF Stem. Below are excerpts from the surgeon's notes during the revision operation: "Immediately upon entering the joint, a thick squirt of green, thick fluid was expressed seemingly under pressure ….. This was immediately sent to laboratory for a gram stain and evaluation with some synovial tissue for evaluation which showed minimal chronic inflammation. No acute inflammation. No signs of polymorphonuc!ear leukocytes. With that in mind, the feeling was it had a clinical picture of an ALVAL type reaction … We did a partial capsulectomy and capsulotomy which allowed us to express the femoral head. A bone tamp was used to remove it. It noted a large amount of corrosion material at the trunnion and some deep, what appeared to be corrosion materials deep inside the femoral head as well, even after head was removed ….. The cup itself was completely loose …. More green purulent-like material was found behind the cup along with quite a bit of necrotic bone so that a fair portion of the posterior wall, some of the superior wall, some of the anterior wall and inferiorly all with significant bone loss. There was necrotic bone almost in a layer around the cup as well." During the revision surgery, Dr. Teeny removed the defective LFIT Anatomic V40 head and replaced it with a ceramic head.
DOCKET NO: 2-6062-15 – Plaintiff vs. Howmedica Osteonics Corp., A New Jersey Corporation D/B/A Stryker Orthopaedics, Defendant
In 2009 our client underwent her first total hip arthroplasty surgery to implant a Stryker Accolade TMZF stem and Femoral Head, which should have a useful life expectancy of 20+ years. However, this patient soon began to experience pain in the left hip, recurrent hip dislocation, and metallosis in the joint area. In March 2014 the client underwent a revision surgery to replace the failing Accolade TMZF stem and Femoral Head. During the revision surgery, Dr. Bobrow noted extensive damage to Plaintiff's hip, stating in part: "There was clear metallosis around the base of the metal head on the trunnion. Using *** the head was removed and some black material was encountered from around the trunnion … "