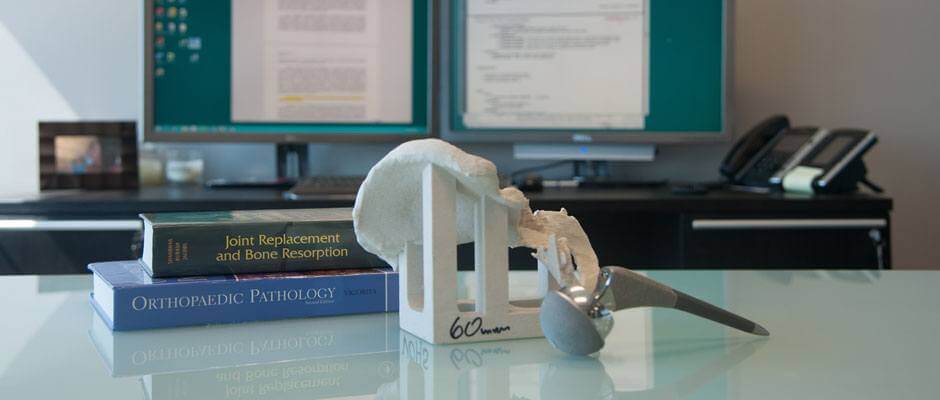 Biomet Metal-On-Metal Hip Replacement Lawsuits and Settlements
Biomet Metal-on-Metal Hip Replacement Lawsuits
The Biomet M2a-38 and the M2a-Magnum are metal on metal hip implants with a history of serious complications. Patients across the United States have filed lawsuits demanding Biomet take responsibility for making and selling defective hips.
Patients are suffering from metal poisoning, metallosis, ALVAL, heart damage, pseudotumors, dead muscle and bones, and a very long list of other medical problems. Many are forced to get a brutal revision surgery to remove the Biomet metal on metal hip and replace it with another type of implant.
mctlaw is one of the few law firms in the country still reviewing medical records and filing lawsuits for people hurt by this specific hip.
What is Wrong with the Biomet Hips?
The Biomet M2a 38 and the M2a Magnum hips were poorly designed from the start. The idea behind metal on metal hips is that the body's own fluids would provide enough lubrication between the cup and the ball of the hip replacement. Instead, the cobalt and chromium metal surfaces of the hip and the cup rub and grind together, releasing microscopic metal debris into the hip cavity. That metal can destroy the muscle, bone, and other tissue surrounding the hip. The metal dust is also small enough to enter the bloodstream and cause metal poisoning throughout the body.
Biomet and its sales representatives convinced many surgeons across the US about the promise of their M2a metal on metal hip implants. Unfortunately, and unknown to most people (including surgeons), more than 95% of medical devices, like the M2a 38 and M2a Magnum, hips make it into a patient's body without a single test for safety or effectiveness. Basically, the majority of the patient population became live test subjects without even knowing it. When that happens, patients – like our metal on metal hip clients – unknowingly take on risks of horrifying medical outcomes.
Biomet has not taken responsibility for making and selling a hip that is devastating people's health and their lives. The problem of sales before safety is so bad that Biomet warned surgeons about these hips in Australia and Europe. However, Biomet did not warn American surgeons at the same time. Instead, they kept on selling the hips in the United States.
Metal on Metal Hip Replacement Cases Across the United States
Click on each state to view the number of cases.


Find Out Now if You Have a Biomet Hip LAWSUIT
Your case review is free. There is a time limit to file a claim, so don't wait.
Biomet Issues "Hazard Alert" for M2a Hip Implants in Australia
Biomet stopped supply and sales of its M2a hip replacement components and canceled them from the Australian Register of Therapeutic Goods (ARTG).
In February 2015, Biomet issued a "hazard alert" for these metal on metal (MoM) components because the Australian Orthopaedic Association has data showing a much higher than expected revision rate.
Zimmer Biomet has not issued similar warnings or recalls for the identical metal on metal hip parts sold in the United States.
Biomet Sends Warning Letters to Surgeons in Europe
In April 2016 the company sent letters to surgeons in Europe admitting the M2a hip had a higher than expected revision rate. The warning is called a Field Safety Corrective Action and is based on data collected by the National Joint Registry for England, Wales and Northern Ireland.
Biomet did not send a similar warning to U.S. surgeons.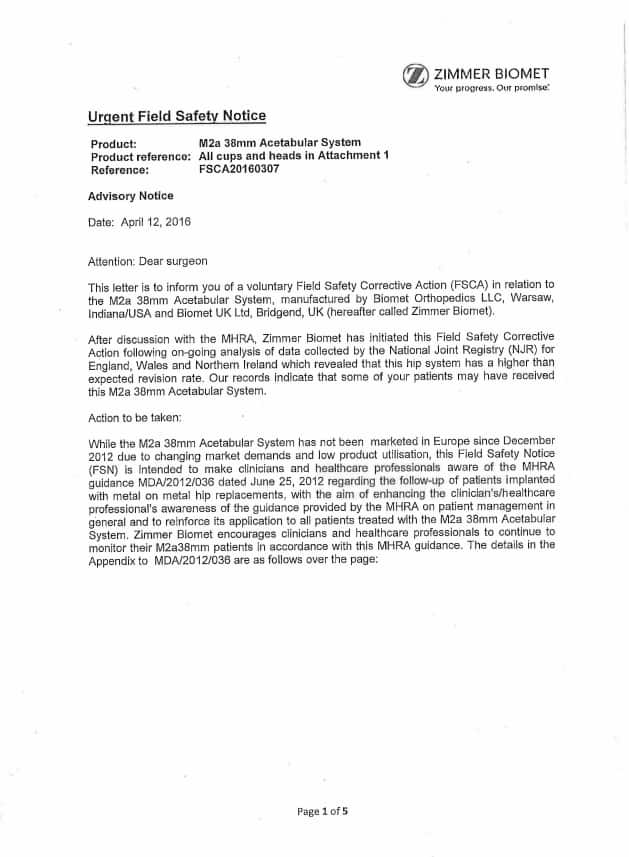 Metal Debris from Biomet M2a Magnum Hips Linked to These Severe Health Issues:
Tissue death
Pain and Burning
5 Steps to Take Now if you Have a Biomet M2a Metal on Metal Hip
See Your Doctor for a Follow-Up Exam – Even if you Don't Have Symptoms
Ask your surgeon if you should get a MARS MRI or CAT scan of your hip. These tests look for pseudotumors or adverse reaction to metal debris ARMD. However, even if you don't have any symptoms, you still may have problems related to your metal hip. Doctors may not know to look for a MoM hip problem if you don't have symptoms.
Ask your doctor to test your blood for high levels of cobalt or chromium. Friction between the metal cup and ball rubbing together can cause metal particles to rub off and enter your bloodstream. This is sometimes a sign of metallosis, which can cause devastating medical conditions.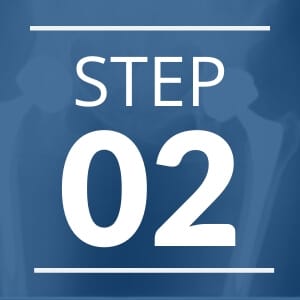 Hire an Attorney BEFORE Revision Surgery, if Possible
To the extent possible, it is extremely important to preserve removed Biomet M2a 38 and Magnum metal-on-metal hip replacements for evidence.
It's important to preserve pathology specimens. These document the amount and effect of the metal debris generated by the metal on metal hip replacement.
Mctlaw is a leader in obtaining and preserving such evidence. We can help your revision surgeon retrieve and store the device and specimens.
If you already had revision surgery, don't worry. Our attorneys will work to recover any available evidence from your procedure. That's why we work as a team with your orthopedic surgeon.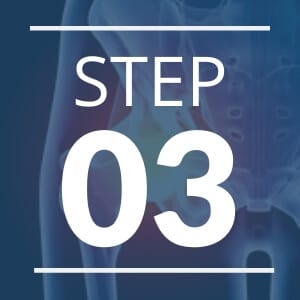 Get a Copy of Your Hip Implant Records
Your hip implant record is a key piece of evidence in your case. Ask your surgeon to give you a copy of the implant record and the operative notes. Click here to see a replica of an implant record.
The implant record is generally a single page of your medical records with stickers on it. These stickers identify the particular product numbers for the implants used in your surgery.
What if I Have Trouble Getting These Medical Records?
These are your personal medical records and you have a right to a copy of them. The Biomet hip replacement attorneys at mctlaw can help you collect and review these medical records in order to preserve evidence for a claim. Please contact us immediately to begin a case evaluation. You can call us at (888) 952-5242 or fill out our form below.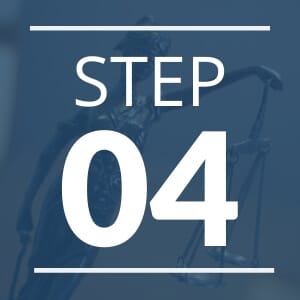 Report Your Problem to the FDA
There is a way to help bring these issues to the attention of the FDA, but there is: Report your adverse metal on metal hip experience to the FDA by filling out a MedWatch form.
Hip manufacturers are required to report all hip failures to the FDA. However, they often find loopholes to keep this data hidden. If the FDA doesn't have accurate reporting of patients experiencing serious complications, then neither does your surgeon. Doctors rely on FDA data to diagnose problems and know when a specific type of hip implant experiences issues.
Don't let the hip implant makers brush your information under the rug. Most people don't know that you can self-report problems, but the FDA needs to hear from you. Empower yourself against these huge corporations that put profits above your health. It's simple to fill out the form. More importantly, it's a good way to make your voice heard.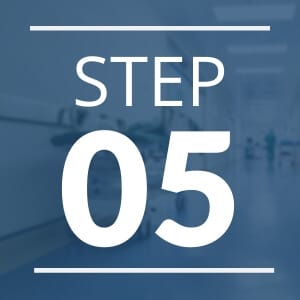 Sign the Petition Demanding the FDA Recall the Biomet Magnum & M2a Hips
Demand the FDA do its job and recall the Biomet Magnum and M2a-38 metal on metal hip replacements. Why? Because these hip replacements are causing heavy metal poisoning resulting in tissue destruction, pseudotumors, bone deterioration, and heart failure. Patients and surgeons have been left in the dark.
Zimmer-Biomet has known of these problems for years. The company even recalled these hip replacements in other parts of the world, but not here. Zimmer-Biomet has failed to warn patients and surgeons in the United States of the heavy metal poisoning. Demand the FDA do its job and recall this dangerous product. Patients and surgeons must be warned of the risks.
Talk to Us About Your Metal on Metal Hip Problems

Free Case Review with No Obligation
Our Extensive Legal Experience in Metal-on-Metal Hip Litigation
MCT at the Forefront of MoM litigation
In 2008 mctlaw filed the first lawsuit in the United States against a manufacturer of the current generation of defective metal-on-metal hip replacements. Ever since we have been at the forefront of litigation against makers of these defective devices across the United States.
Millions of Discovery Documents
Mctlaw is one of only a handful of law firms in the nation that has reviewed the millions of discovery documents involved in this litigation.
Depositions
Our attorneys have personally questioned under oath over a hundred witnesses from all over the world connected with the orthopedic implant industry, including designers, engineers, directors, CEOs, marketing executives, distributors, sales representatives, surgeons, researchers, and regulators.
Medical and Technical Knowledge
We have developed contacts within the orthopedic community, an understanding of how that community works, and we have extensive medical and technical knowledge about defective orthopedic hip replacements.
Fighting for Justice
Our attorneys are aggressively and actively litigating Biomet cases through the U.S. state and federal court systems. We are not waiting for a settlement that may never come because our clients need justice now.
Biomet Metal on Metal Hip News
---

A St. Louis jury sent a $20 million dollar message to Biomet Orthopedics in Federal Court today. The verdict sided clearly in favor of Mary Bayes, who suffered extensive heavy metal poisoning and 6 traumatic hip revision surgeries because of the metal-on-metal hip replacement.  The trial relied upon testimony and evidence uncovered by the metal-on-metal […]

---

Internal documents about metal on metal hips that Zimmer Biomet (ZBH) fought hard to keep secret are now public, and some of the contents are troubling. Recently, a judge ruled in favor of mctlaw demand to unseal dozens of Zimmer Biomet's internal corporate documents that were kept hidden from the public. Among the unsealed documents is a […]

---

JANUARY 17, 2020 (Sarasota, FL)  — Zimmer Biomet Holdings' (ZBH) most recent quarterly financial report puts the litigation liability for the M2a-Magnum hip at $65.7-million. Since May 2018, the expected cost of litigation from the M2a-Magnum metal on metal hip keeps going up quarter after quarter, based on the company's financial reports. Litigation liability is […]
Find out right now if you have a claim
Your case review is free. Don't wait to get help because it could hurt your case.
My experience with mctlaw for my hip claim was remarkable, I found the communication to be outstanding. I also felt they did an excellent job setting expectations and then delivering on those stated expectations. From net amount, timing of the settlement, how much each related party would receive etc. they were outstanding. I would highly recommend them. They are very professional and set the bar in vaccine injury practice.
L.S
Client
Five stars for mctlaw! Paralegal Leslie Williams did an outstanding job communicating with us and keeping us informed. Thanks for all the help.
M.H.
Client
I am excited to be receiving my final payment so I can put all this behind me. I am really grateful to everyone who played a part in getting me this well deserved settlement as my life has been negatively impacted over the years.
M.B.
Client
We cannot thank you enough for the services your firm has provided for Marie and I in our time of need. I could not have chosen a finer firm near or far to represent us.
John and Marie (Last Name Withheld for Privacy)
My first response is "Wow!" It has only been 11 months since I first heard of "SIRVA" and an HHS program that awarded compensation to its victims and only 7 months since MC&T accepted my case. I feel that your efforts on my part made all the difference.
A. Stoneburner
Thanks to you I am living comfortably in my own home with assistance. After my devastating GBS diagnosis from the flu vaccine six years ago, I didn't know what to do. Thank goodness I found you and your law firm. Thank you so much!
Name Withheld for Privacy
Alison is a phenomenal attorney… When she put together the demand letter she was able to explain what I had been through and how I had felt… I want to thank your firm but personally thank all that had a hand in resolving my case.
Name Withheld for Privacy
The past 10 months have been a whirlwind to say the least but we are truly thankful, grateful and appreciative of …all you have done for our family. This is truly life changing for us. The weight that this lifts off of our shoulders and the peace of mind it will give us….its priceless. So again, thank you.
Name Withheld for Privacy of a Minor Child
Thank you so much. It was so nice to deal with someone who treated us with respect and had a true interest in our future. This would not have happened without your hard work. Please tell anyone who helped with this that we truly appreciate it.
Martin (Last Name Withheld)
I am so grateful for all of your time and tireless work that you have put into resolving my case. Most sincere thanks.
M.R.
I just wanted to thank you for your help over the past 3 years…Thank you for negotiating with the DOJ in order to get as much as we could under the circumstance…It has been a pleasure having you and your wonderful staff here to assist me in this long and tedious effort.
Name Withheld for Privacy
Thank you for all of your efforts all along to help resolve lifelong issues I will always have due to this defective implant. You have held my hand through a lot and each and everyone of you at MCT are appreciated for all of your efforts.
Name Withheld for Privacy
Mr. Maglio, I want you to know the appreciation I have for Diana Stadelnikas and her team for the effort they have put into my wife's claim! The settlement negotiation they achieved (in a very frustrating situation) is outstanding! While there's a way to go yet, I want to assure you will they have my full confidence and gratitude to the finish! I know you must be proud of your people!
W.C.
I thank you so much for your diligent and hard work on my behalf. You are a thoroughly professional and pleasant person and I am grateful for having you on my case.
Susan M.
Client