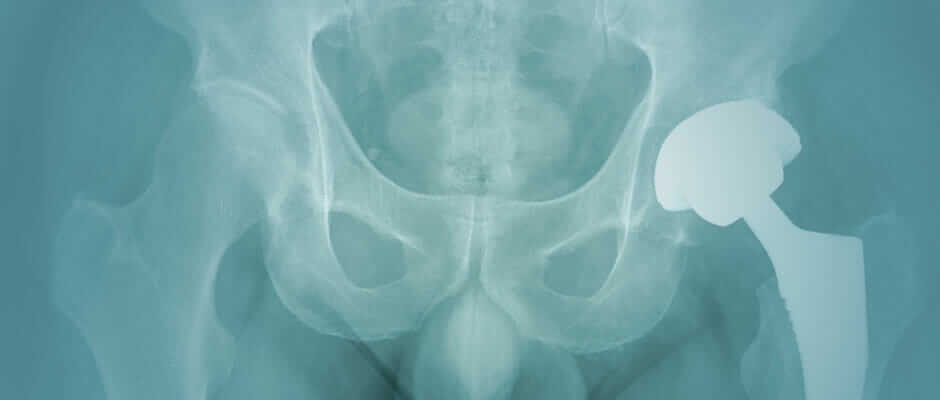 J&J Pinnacle Metal on Metal Hip Replacement Lawsuits
DEPUY J&J'S PINNACLE HIP REPLACEMENTS AND METAL ON METAL HIP PROBLEMS
There are several types of Pinnacle hip replacements. One type is the Ultamet, which uses a metal liner between the metal cup and metal ball parts of the hip replacement. Health complications happen with metal on metal hip replacements when the metal parts begin to rub against one another.
METAL ON METAL HIP REPLACEMENT PROBLEMS
When metal on metal hip replacement parts rub against each other, they release microscopic metal ion particles into the bloodstream and the joints wear down. Many times, there are no symptoms but there can still be elevated levels of metal in your blood that leads to severe health complications, such as:
Metallosis​
Metallosis is a type of metal poisoning. It involves a build-up of metal debris in the body's soft tissue. These particles rot healthy red tissue and muscle around the hip replacement and turn it into a dead mass of gray gunk. This causes pain and loss of mobility, among other issues.
Cobalt Chromium Poisoning​
Cobalt chromium poisoning is when there are elevated amounts of cobalt and chromium metals in the bloodstream. The level for those with metal on metal hip replacements is usually slightly higher than normal, but it can progress to a dangerous level and pose health risks.
Other Side Effects:​
– Inflammation in the tissues around the joint
– Bone loss
– Loosening of the device
– Metal Allergy (ARMD or ALVAL)
– Pseudotumor
– Neurological issues
– Heart complications/failure
– Revision Surgery
If you've had a Metal-on-Metal hip replacement, it's extremely important to see your doctor and get blood tests.
HOW DID DEPUY'S PINNACLE GET APPROVED?​
The U.S. Food and Drug Administration (FDA) approved the Pinnacle hip replacement in 2000. It was approved through the FDA's grandfather clause, meaning it was similar enough to another already approved hip replacement that it didn't have to go through extensive testing.
DePuy created a similar hip replacement to the Pinnacle around the same time and in 2013 it was recalled because of the severe injuries it caused. Despite having the same problems as the recalled hip replacement in 2013, the Pinnacle has never been recalled.
HAVE YOU SUFFERED FROM A PINNACLE METAL-ON-METAL HIP REPLACEMENT?​
mctlaw is one of the only law firms in the country that helps people with Pinnacle metal on metal hip replacements. We do not string you along, sell your information, or refer your case to other firms. We believe you deserve respect, understanding, and compensation for your suffering.
WHAT TO ASK WHEN HIRING A LAWYER?​
mctlaw actively files lawsuits for metal on metal hip replacement injuries. Most law firms are not doing this.. Before you choose legal representation, ask these questions when contacting lawyers:
– Am I speaking with a call center? Am I speaking to someone at the law firm right now?
– Will your firm represent me or refer me to another firm?
– How are you actively working on Pinnacle MoM hip implant cases?
– What are you doing differently with Pinnacle MoM hip cases than other law firms?
– Will I be able to speak with my attorney throughout the process?
HOW MCTLAW HANDLES METAL-ON-METAL CLAIMS DIFFERENTLY THAN OTHER FIRMS:​
– When you call mctlaw, you will speak directly with our staff. Most TV advertisements provide a call center number and are not actual law firms.
– Call centers sell your lead to a law firm who pays for your information. We NEVER do this.
– You will speak to the attorney handling your case. Many firms deal with hip replacement injuries as an assembly line.
– Our clients are treated with respect and given the attention they deserve. You will not be a number to mctlaw.
– We work directly for our clients. We communicate with our clients often and are available to answer questions throughout the case.
– mctlaw is filing Pinnacle lawsuits, not sitting on them, or referring them out.
Why you Should Contact an Attorney Right Now, Even if you Don't Have Symptoms
Although there has not been a recall for the metal on metal DePuy Pinnacle Acetabular Cup hip implant, you should still contact an attorney who handles metal hip cases. There are deadlines to file your case and your attorney can make sure you don't miss these dates.
Maglio Christopher & Toale Law Firm is one of the nation's leading law firms handling metal-on-metal joint replacement cases. We filed the FIRST metal-on-metal hip implant lawsuit in the United States and have worked to litigate these cases ever since.
Metal on Metal Hip Replacement Cases FILED BY MCTLAW Across the United States
Click on each state to view the number of cases.
$120 Million Settlement with 46 US States – January 2019
DePuy agrees to a $120 million settlement with the attorneys general of 46 U.S. states. The states said Depuy misled patients by claiming their hip replacements would last much longer than they did. That promise turned into a nightmare for patients who suddenly need another hip replacement surgery just a few years after the first one. The lawsuits alleged that DePuy engaged in unfair and deceptive sales practices with ASR XL and Pinnacle Ultamet hip replacements.
$247 Million Jury Verdict – November 2017
In a unanimous verdict, a Dallas jury told Johnson & Johnson and Depuy Orthopedics to pay $247 million to 6 people hurt by the defective Pinnacle hip implant. This is the 3rd trial in a row where a jury sided with the patients over the corporations. Our attorneys believe this verdict is a good sign for all victims of metal on metal hip implants. These hips are defective, they are hurting thousands of people across the country, and juries are siding with the little guys in this David and Goliath fight.
$1 Billion Jury Verdict – December 2016
On December 1, 2016, a jury returned an astounding $1 billion verdict in favor of 6 people injured by the Pinnacle hip replacement. This is the largest award ever handed down in any metal on metal hip trial. It's the second time in only 8 months that a jury has awarded a verdict meant to punish the company for how it handled these defective hips. Attorneys at Maglio Christopher and Toale, P.A. believe this sends a strong message to DePuy and J&J that it's time to start settling these cases instead of losing billions of dollars in trials. Juries are not showing sympathy for these huge companies when they see the physical damage their implants have caused to the patients who trusted them.
$500 Million Dollar Jury Verdict – March 2016
In March 2016 a jury awarded a nearly $500 million dollar verdict to 5 victims of defective Pinnacle hip replacements. The verdict included $360 million in punitive damages. This was a resounding victory for all of the victims of defective metal on metal hips. You can read the entire Pinnacle hip trial verdict form here.
Find out right now if you have a claim
Your case review is free. Don't wait to get help because it could hurt your case.
My experience with mctlaw for my hip claim was remarkable, I found the communication to be outstanding. I also felt they did an excellent job setting expectations and then delivering on those stated expectations. From net amount, timing of the settlement, how much each related party would receive etc. they were outstanding. I would highly recommend them. They are very professional and set the bar in vaccine injury practice.
L.S
Client
Five stars for Maglio Christopher and Toale! Paralegal Leslie Williams did an outstanding job communicating with us and keeping us informed. Thanks for all the help.
M.H.
Client
I am excited to be receiving my final payment so I can put all this behind me. I am really grateful to everyone who played a part in getting me this well deserved settlement as my life has been negatively impacted over the years.
M.B.
Client
We cannot thank you enough for the services your firm has provided for Marie and I in our time of need. I could not have chosen a finer firm near or far to represent us.
John and Marie (Last Name Withheld for Privacy)
My first response is "Wow!" It has only been 11 months since I first heard of "SIRVA" and an HHS program that awarded compensation to its victims and only 7 months since MC&T accepted my case. I feel that your efforts on my part made all the difference.
A. Stoneburner
Thanks to you I am living comfortably in my own home with assistance. After my devastating GBS diagnosis from the flu vaccine six years ago, I didn't know what to do. Thank goodness I found you and your law firm. Thank you so much!
Name Withheld for Privacy
Alison is a phenomenal attorney… When she put together the demand letter she was able to explain what I had been through and how I had felt… I want to thank your firm but personally thank all that had a hand in resolving my case.
Name Withheld for Privacy
The past 10 months have been a whirlwind to say the least but we are truly thankful, grateful and appreciative of …all you have done for our family. This is truly life changing for us. The weight that this lifts off of our shoulders and the peace of mind it will give us….its priceless. So again, thank you.
Name Withheld for Privacy of a Minor Child
Thank you so much. It was so nice to deal with someone who treated us with respect and had a true interest in our future. This would not have happened without your hard work. Please tell anyone who helped with this that we truly appreciate it.
Martin (Last Name Withheld)
I am so grateful for all of your time and tireless work that you have put into resolving my case. Most sincere thanks.
M.R.
I just wanted to thank you for your help over the past 3 years…Thank you for negotiating with the DOJ in order to get as much as we could under the circumstance…It has been a pleasure having you and your wonderful staff here to assist me in this long and tedious effort.
Name Withheld for Privacy
Thank you for all of your efforts all along to help resolve lifelong issues I will always have due to this defective implant. You have held my hand through a lot and each and everyone of you at MCT are appreciated for all of your efforts.
Name Withheld for Privacy
Mr. Maglio, I want you to know the appreciation I have for Diana Stadelnikas and her team for the effort they have put into my wife's claim! The settlement negotiation they achieved (in a very frustrating situation) is outstanding! While there's a way to go yet, I want to assure you will they have my full confidence and gratitude to the finish! I know you must be proud of your people!
W.C.
I thank you so much for your diligent and hard work on my behalf. You are a thoroughly professional and pleasant person and I am grateful for having you on my case.
Susan M.
Client