mctlaw nominates Kristie Bradley to be a member of the 2022 class of Native American 40 under 40!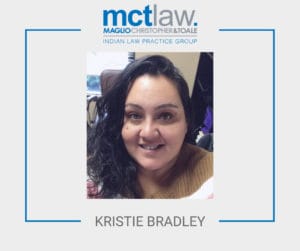 mctlaw has the honor of nominating Kristie Bradley, from the United Keetoowah Band of Cherokee Indians (UKB), for the 2022 Native American 40 Under 40 award. Kristie is the UKB's Tribal Court Administrator, and she has shown extraordinary leadership, perseverance, and dedication to her mission to expand the UKB's Tribal Court, all while dealing with the ongoing challenges of the COVID-19 pandemic. She exemplifies what the 40 Under 40 awards are all about, and we are honored to work with her. 
Every year the National Center for American Indian Enterprise Development (NCAIED) recognizes 40 American Indian, Alaska Native, and Native Hawaiian leaders under the age of 40 for their significant contributions to their communities.  Past award winners have included young leaders working in numerous fields including academia, government, non-profits, tourism, nature conservation, technology, and more. Awardees are honored at a reception held at the NCAIED Reservation Economic Summit (RES) conference.  
Related Information