Yelm Prairie Line Trail
See if your property qualifies for compensation from the Federal Government
Yelm Prairie Line Trail – Rails to Trails Conversion
If you own property next to the railroad tracks that will become the Yelm Prairie Line Trail in Pierce or Thurston Counties in Washington, you could be eligible for compensation from the federal government over the conversion of the railroad right-of-way to a recreational trail. The attorneys at mctlaw would like to represent you in getting that compensation.
Frequently Asked Questions About the Yelm Prairie Line Trail Conversion
Contact us now about the Yelm Prairie Line Trail
The Yelm Prairie Line Trail Extension
The Yelm Prairie Line Trail is part of a community rails-to-trails extension consisting of a 4.8-mile strip of land between Yelm and Roy.
Eventually, this short section of trail will connect to the Willapa Hills Trail and Palouse to Cascades Trail.
The rail bridges over the Nisqually River and Centralia Canal are structurally sound.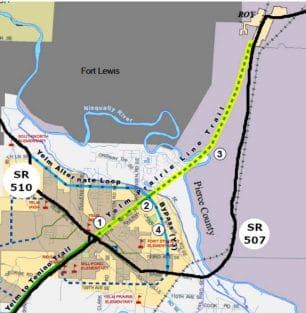 Notice of Interim Trail Use or Abandonment
On July 8, 2020, the Surface Transportation Board (STB) granted an abandonment exemption to the City of Yelm. This "notice of interim trail use (NITU) allows the city to establish a community trail while "railbanking" the railroad line for possible future transportation use. You can read the original decision by the STB by clicking on the PDF image.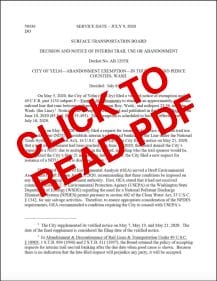 Why Choose mctlaw?
Mctlaw is a Seattle-based law firm.
Attorney Talis Abolins is a local attorney practicing law in Pierce and Thurston Counties. He's a native Washingtonian and his family has lived in Pierce County for generations.
Our office is in downtown Seattle, but our attorney's practices law in the U.S. Court of Federal Claims in Washington, DC, which is where the Yelm Prairie Line Trail cases are heard.
Our law firm supports Rails-to-Trails conversions because they add value to neighborhoods and turn unused strips of land into productive community park areas.
Filing a Yelm Prairie Line Trail claim does NOT stop or impact this process. We are simply asking the federal government to fairly compensate adjacent landowners for their property based on your constitutional rights
Meet our Rails-to-Trails Legal Team
Talis Abolins, Attorney
Talis is a local attorney practicing in Pierce and Thursday Counties, as well as throughout Washington. He served as a Washington State Assistant Attorney General for 14 years before entering private practice. Talis is a native Washingtonian and 4 generations of his family hail from Pierce County.
---
Altom M. Maglio, Attorney
Altom ("Al" and "Tom" combined – the names of his grandfathers) Maglio represents individuals across the United States in complex civil litigation. Mr. Maglio founded mctlaw in 1999 to represent people and not corporations or big government. Today Mr. Maglio serves as the managing partner of the Firm, which actively represents clients involved in complex litigation in all 50 states and all U.S. territories. Altom is the President-elect of the United States Court of Federal Claims Bar Association and has been actively involved in the bar of the Court of Federal Claims for many years.
Find Out Now if You Have a
Yelm Prairie Line TRAIL Claim
Your case review is free. There is a deadline to file your case. Let us review your property records.
Rails-to-Trails Land Taking
In 1983, Congress amended the National Trails System Act, which is also known as the Rails-to-Trails Act. The Act grants the federal government the authority to turn abandoned railroad right-of-ways into a nationwide system of recreational trails. The Act includes a program that lets railroad companies transfer the land under their railroad tracks to organizations, cities, or individuals who will convert it into recreational trails for public use. In order to transfer this land, the federal government, through the Rails-to-Trails Act, puts into motion a "federal taking" of the abandoned railroad corridors, which likely would have reverted to the adjoining landowners.
Typically this is how the process occurs:
A railroad company abandons or stops using a railway corridor.
The federal government "takes" that land back for another use, such as a community recreation trail.
Private property owners adjacent to the land can demand to be fairly paid for that transfer of property since they're not getting it back.
The property owner files a lawsuit against the federal government in the U.S. Court of Federal Claims in Washington D.C. asking for "just compensation" for the taking of his or her land.
What's unusual in Rails-to-Trails land seizures is that the federal government takes what appears to be the railroad's track for public use, but you may actually own the land under the tracks and thus be entitled to compensation.
What is the U.S. Court of Federal Claims
The United States Court of Federal Claims is headquartered in Washington, D.C. but it hears cases against the federal government that originates anywhere in the country, including Rails-to-Trails cases. It generally handles cases asking for more than $10,000 in compensation from the U.S. government. To make it easier for plaintiffs, judges can hold trials at local courthouses in the area where the dispute is located. That means you could go to trial in your hometown instead of traveling to Washington D.C.
Our Legal Experience in the Court of Federal Claims
Very few attorneys in the United States work in the Court of Federal Claims regularly. All of the Rails to Trails lawyers at mctlaw are admitted to practice in the Court. Over the past 20 years, the firm has represented hundreds of clients in cases before this Court.
Content Reviewed by Pamela Levinson – Government Contracts Lawyer
Pamela Levinson is an experienced attorney with a background in complex business litigation, investigations, and compliance. She is admitted to practice in Florida and the District of Columbia. Pamela currently focuses her law practice on construction law, and government contracts litigation, and represents Indian tribes in federal litigation. Her extensive background includes complex commercial litigation, class-action, contracts, national security, civil and criminal investigative matters, and patents, among other areas. Pamela received her J.D. summa cum laude, graduating first in her class from the University of Miami in Florida.
This page was last updated:
Contact Us Now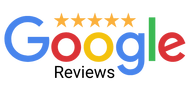 As an experienced leader in these types of lawsuits, we were confident the firm would have the expertise. However what surprised us most was the high level of excellent customer service from the firm's staff!

Pat R.
I cant recommend this firm enough. They have an outstanding team that truly care for their clients…I have been awarded a fair six figure settlement.

Nate M.
When I say "they went to bat" for me…this Law Firm literally did just that. They persevered to bring the hard-nosed Manufacturer to settle and provide me some recompense for everything I had to endure which led to this suit.

Me'Chelle
Click Here to read our Client Testimonials