Mctlaw Announces Appointments to the Firm's Attorney Management Team
Leading national litigation firm, mctlaw, proudly announces the appointment of partners Danielle Strait, Ilyas Sayeg, and Jeffrey Nelson to its Attorney Management Team. Their leadership will strategically drive the firm's continued growth and success. "These attorneys represent the core values of mctlaw," remarks founding partner Altom Maglio. "They will help guide us with integrity, excellence, and an unwavering commitment to our clients."
Danielle Strait is a longtime member of the mctlaw Vaccine Injury Group where she represents clients throughout the United States who have suffered serious reactions to vaccinations. Before joining mctlaw, Ms. Strait served as a federal judicial law clerk for the Chief Special Master of the United States Court of Federal Claims, the national court that adjudicates vaccine injury claims. Ms. Strait is based in mctlaw's Seattle, Washington office.
Ilyas Sayeg focuses his legal practice on Product Liability at mctlaw.  Mr. Sayeg is a nationwide leader in complex civil litigation and, in particular, disputes involving large-scale "electronic discovery" (the process by which electronic documents are exchanged in litigation).  This experience has allowed him to head national litigation against medical device manufacturers. Mr. Sayeg is actively involved with American Association for Justice, the Sedona Conference, and the Complex Litigation E-Discovery Forum. Mr. Sayeg is based in mctlaw's Sarasota, Florida office.
Jeffrey Nelson brings a wealth of experience to mctlaw's Indian Law Group. He has held pivotal roles as Senior Attorney at the National Indian Gaming Commission and Assistant Solicitor at the Department of the Interior. Presently, Mr. Nelson represents tribes nationally on litigation, gaming, government contracts, and governance and serves as the Assistant Attorney General for the United Keetoowah Band of Cherokee Indians. Mr. Nelson is based in mctlaw's Washington, DC office.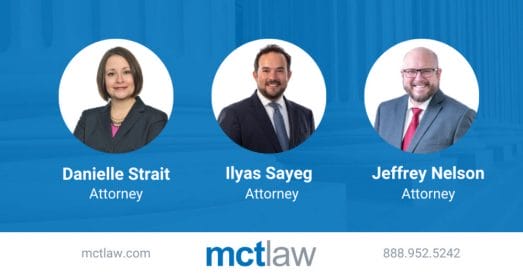 About mctlaw:
Our goal is to resolve legal issues in a faster, more efficient, less costly, and less disruptive way for our clients. Our attorneys work to eliminate delays and unnecessary costs. We fight so that regular people, small business owners, tribes, and the injured can stand up to giant corporations and government agencies. Clients who come to mctlaw are often outmatched and overwhelmed. We make sure they are heard, can fight back, and get justice. The Firm has offices across the country in Washington, DC; Sarasota, FL; and Seattle, WA. Learn more at www.mctlaw.com.