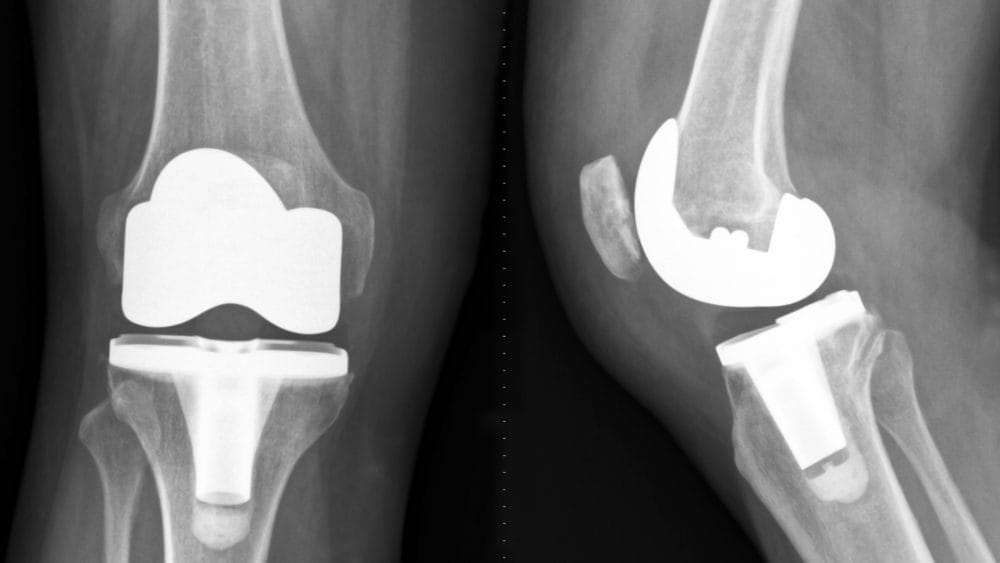 EXACTECH KNEE REPLACEMENT RECALL AND LAWSUITS
Plastic in Exactech Knees Wearing Out Faster Than Expected
On August 31, 2021, Exactech recalled 147,732 knee replacements already implanted into patients' bodies. According to Exactech's letter to surgeons, the plastic in the tibia component is wearing out and degrading much faster than expected. This plastic component acts as cartilage, or a cushion, between the metal components of the new knee joint.
Mctlaw Attorneys Wins Fight to Consolidate Exactech Cases, Trial Date Set
Justice is moving swiftly for people hurt by defective Exactech hips, Exactech knees, and Exactech ankles. Mctlaw attorney, Ilyas Sayeg won arguments to move all FL Exactech lawsuits into a consolidated master case in Alachua County, FL. 
Exactech is a Gainesville-based company, and this means that cases against them, no matter where a person lives, can be filed in Alachua County, FL. Grouping the cases all together helps them get heard as quickly as possible. In addition to setting a quick trial date, Hon. Donna Keim holds monthly case management meetings to help move the case along quickly.
Mctlaw is leading the way in this litigation and is committed to doing our part to get justice for those impacted by faulty Exactech medical hips, knees, and ankles. No matter what state you live in, we can help you file your claim in Florida and get representation from the law firm that made the consolidation of the cases possible.
Which Exactech Knee Replacement are Recalled?
The recalled Exactech Knee replacements include:
OPTETRAK Comprehensive Knee System
TRULIANT Knee System
The Federal Drug Administration (FDA) classifies this as a "Class 2" recall because the plastic in the knee replacement can cause temporary or medically reversible health problems. In some cases, a patient may need revision knee surgery to reverse the health damage. mctlaw represents clients filing lawsuits against Exactech for these defective knee implants. A recall for Exactech's GXL hip replacements was issued, as well.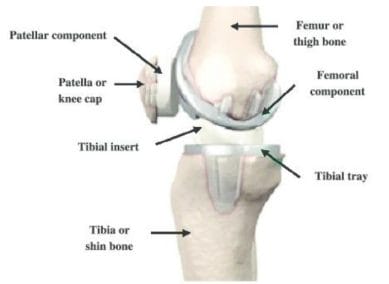 What Should I Do if I Have an Exactech Optetrak or Truliant Knee Replacement?
Patients who had knee surgery with Exatech's OPTETRAK or TRULIANT knee replacements should see their doctor. Even if you're not experiencing symptoms, it's important to monitor your situation. X-rays and routine examinations are the best way to know for sure if your implant is failing.
Warning About Giving Your Info to Exactech
Exactech may tell you that they will cover your out-of-pocket medical costs. Be careful before signing or agreeing to any type of compensation from EXACTECH. You may be signing away your rights. Contact the attorneys at mctlaw before contacting the EXACTECH-BROADSPIRE Helpline. Looking up your knee replacement serial number on the EXACTECH recall website may impact your rights. Contact an attorney first.
The Problems With Exactech Knee Replacements
Patients who had knee surgery with Exatech's OPTETRAK or TRULIAKnee implants are packaged in sealed containers to protect the components from exposure to oxygen. Unfortunately, the packaging Exactech used did not properly seal these components.

As a result, while the products were "on the shelf" waiting to be purchased and implanted, the plastic components were exposed to oxygen and went through a chemical reaction called "oxidation." This chemical reaction weakened the plastic components, making them more likely to release plastic wear into the body, crack, break, and otherwise fail in ways that may injure patients.
What To Consider When Hiring a Lawyer To Represent Your Knee Replacement Lawsuit:
It's important to hire a lawyer based on experience in defective medical devices. The law firm you hire should have the resources to handle your case and litigate against giant corporations who will try to wreck your lawsuit.
Mctlaw has the resources, expertise, technology, and commitment to represent you against the big medical device corporations like Exactech. Our attorneys are leading litigation against orthopedic device manufacturers across the country. We get in the trenches and do the work it takes to navigate the legal system and fight the corporations' attempts to avoid accountability.
Importantly, we will actively represent you. We are not a referral mill and are not looking to refer your case. We will investigate your case in the hopes of actively representing you.
Mctlaw does not sue your orthopedic surgeon. It's likely your surgeon can help your case. We believe the problem is with the medical devices and the manufacturers, sellers, and distributors who ignored the problems in order to focus on profit.
Mctlaw represents you for free unless we recover money from a verdict or a settlement. If you don't get compensated, you owe us nothing.
Every patient's case is unique and has its own complexities; our attorneys handle each client's case with the care and respect they deserve.
There is a limited amount of time to file a lawsuit for injuries suffered from a defective knee replacement. Don't wait or you could run out of time to file a claim.
There are currently several Exactech medical implant device recalls. These recalls include:
If you have received one of these joint replacements, contact mctlaw for a free case review.
Content Reviewed by Ilyas Sayeg – Medical Product Liability Lawyer
Ilyas Sayeg is a partner at mctlaw working in the Firm's product liability and complex consumer protection practices representing clients with failing metal on metal hip replacements and recalled Exactech hip and knee implants. Mr. Sayeg represents "Davids" nationwide who are injured by defective medical products and deceptive business practices of the corporate "Goliaths" who put profit before safety. A passionate advocate, he takes pride in standing toe-to-toe against some of the largest companies in the world to help his clients seek justice. Mr. Sayeg is a member of the American Association for Justice.
This page was last updated:
You May Have a Case.
CONTACT US FOR A FREE CASE REVIEW
HOW TO TELL IF YOUR KNEE REPLACEMENT IS FAILING
Early wear of the OPTETRAK and TRULIANT knee implants can lead to complications like weakening, loosening, or total failure of the joint, fractures and dislocation, as well as bone, muscle, and nerve damage. Symptoms of implant failure are:
Instability when standing or the feeling like the knee is going to give out backward or sideways.
Inability to put weight on the knee.
Popping, clicking, or crunching sounds coming from the implant.
Heat or warmth around the knee joint.
Joint pain and/or swelling.
Decreased range of motion, stiffness.
Contact your doctor immediately if you're experiencing any of these symptoms.
Source: HSS, Revision Total Knee Replacement: Frequently Asked Questions (FAQs)
Every patient's case is unique and has its own complexities; our attorneys handle each client's case with the care and respect they deserve.
KNEE REVISION SURGERY FROM A BAD KNEE REPLACEMENT
Complications from defective knee replacements may require revision surgery. Knee revision surgery is the replacement of a failed total knee implant with a new knee implant.
Knee revision surgery is complex because it involves not only taking out the bad original knee implant but inserting a new knee replacement. Knee revision surgery takes extensive planning prior to surgery, specialized implants and tools, long operating times, and expert surgical techniques.
Warning. Video contains graphic images of knee replacement surgery.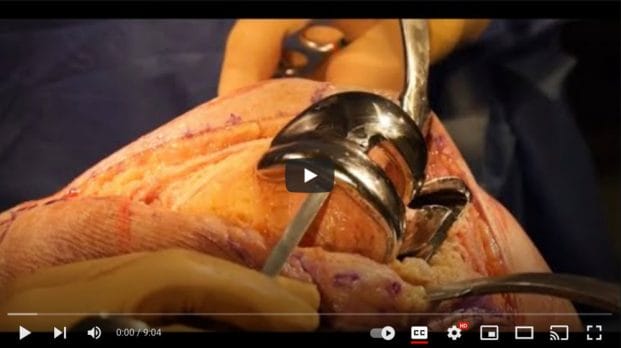 Revision surgeons can be hard to find due to the complexity of the procedure. See our map of revision surgeons that our clients have used.
---
Other Exactech Recalls
Find out right now if you have a claim
Your case review is free. Don't wait to get help because it could hurt your case.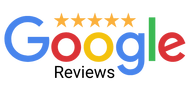 As an experienced leader in these types of lawsuits, we were confident the firm would have the expertise. However, what surprised us most was the high level of excellent customer service from the firm's staff!

Pat R.
I can't recommend this firm enough. They have an outstanding team that truly care for their clients…I have been awarded a fair six figure settlement.

Nate M.
When I say "they went to bat" for me…this Law Firm literally did just that. They persevered to bring the hard-nosed Manufacturer to settle and provide me some recompense for everything I had to endure which led to this suit.

Me'Chelle