Mctlaw Completes Trademark Registration for the United Keetoowah Band of Cherokee Indians
mctlaw recently completed the trademark registration for the word "Keetoowah " on behalf of the United Keetoowah Band of Cherokee Indians (UKB). It is now registered with the U.S. Patent and Trademark Office. This new trademark comes after mctlaw also helped the UKB register for trademark protections on their tribal seal. Mctlaw attorney Sophie Asher was a key part of this process for the United Keetoowah Band of Cherokees.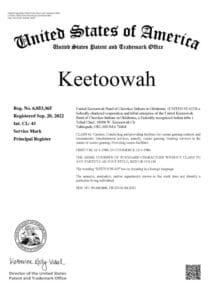 Trademarking their name makes sure that only the UKB can legally use the word "Keetoowah" in relation to casinos, entertainment, gaming, and related merchandise.
mctlaw attorneys can assist tribes with the vital work of protecting their cultural heritage, logos, and brands through registration with The United States Patent and Trademark Office. This process includes copyrights and trademarks to protect different aspects of intellectual property. 
By registering your intellectual property, you prevent non-tribal enterprises from using Tribal heritage and insignia to inappropriately claim association with Tribes and confuse consumers. Or, you can register to use it for your own enterprises. Our attorneys provide practical tips and big-picture considerations so you can decide how best to protect your Tribe's heritage and intellectual property.
The attorneys at mctlaw have extensive experience helping tribal leaders navigate legal challenges facing Indian governments nationwide, including protecting their interests through trademarking. 
Contact us at www.mctlaw.com or 8889525242 for assistance in the registration process or for more information.
Related Information