Mctlaw's Indian Law Practice Group Visits the Sauk-Suiattle Indian Reservation
In July, mctlaw's Indian law practice group attorneys Jeffrey Nelson, Derril Jordan, Sophie Asher, and Kehl Winkle visited the Sauk-Suiattle Indian Tribe, one of the firm's tribal clients, at the Tribe's Reservation near Darrington, Washington. After a meeting with members of the Tribal Council, they accompanied Tribal Council member Kevin Lenon into the backcountry to locate several of the Tribe's historical public domain allotments and other traditional cultural properties on or near U.S. Forest Service land in the Baker-Snoqualmie National Forest.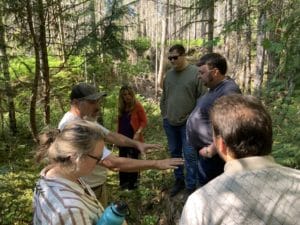 Attorneys at mctlaw have expertise in helping tribal leaders and businesses navigate the legal challenges facing Indian governments across the nation.
The firm handles an array of Native American issues, including, but not limited to:
For more information regarding mctlaw's Indian law practice, you may contact us at www.mctlaw.com or 888-952-5242.
Related Information